A Bedroom for your Child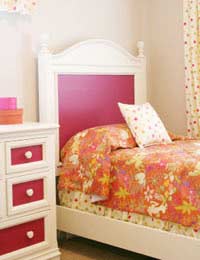 If you have a child, you will want to create a place in which they can create childlike chaos, so it is important that you opt for the right furniture and accessories that will leave little for you to clean.
The main focus you should have when decorating your child's bedroom is to find the balance between what is fun and what is practical.
The Basics
Obviously, a bedroom has certain requirements, such as a wardrobe, set of drawers and a bed, but this doesn't necessarily mean that you can't inject a bit of excitement into the room through these large pieces of furniture.
Department stores, now stock furniture specifically designed for children's bedrooms that are decorated in bold colours – pink for girls and blue for boys, for example – and these can add character to the room.
Now, when it comes to the bed, it is very tempting to opt for one of the new, fun ones in the shape of a sports car or one that makes your little girl feel like a princess, but what you must bear in mind is that children grow up, often quicker than we would expect, and what may suit them as a toddler could be out of fashion with them sooner than you think.
So, instead of having to replace a very expensive bed in a few years simply because it is embarrassing when your child's friends visit, why not buy a normal bed and use a themed duvet to inject a theme into the bedroom. This way, if your child's interests change, so too can their bedroom.
Excess Mess
Parents often feel that the majority of their time is spent picking up and tidying away toys that their kids have been playing with, and often, particular when they are at a young age, there can be so many toys and not enough space to store them.
This kind of problem can be resolved when designing your child's bedroom.
For example, toy chests that double up as a seating area can work really well, because not only will all of their toys fit in, you will have somewhere comfortable to sit when reading them a bed-time story or they will have a nice area to relax when their friends come over.
If the room is too small to fit something like that in, you could always opt for a Captain bed (one that is raised higher than a traditional bed), which provides loads of extra storage room underneath, or you could opt for a bunk area that has the bed on top and somewhere underneath for your kid to store their toys, or perhaps study in as they get older.
Using Accessories
Obviously, depending on the age of your child, you can have a lot of fun with accessories. For example, for a younger kid, you can get fun rugs that double up as hop-scotch mats or a bedside lamp that creates shapes or animals on the ceiling.
There are lots of weird and wonderful things available now that will make you child's bedroom much more exciting and easier to maintain – just try not to go overboard!
You might also like...