Give Your Apartment a Green Makeover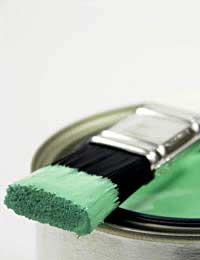 Fancy a change in the interior style of your apartment as well as the chance to make your home more environmentally friendly at the same time? Here are a few suggestions for a green makeover.
Give rooms a fresh lick of colour with eco paints. There are all sorts of ranges available today - and in some fabulous colours. Many of these contain no solvents, pesticides or fungicides, and are also compostable.
You will find some of them are organic and much healthier to live with as well as being more environmentally friendly in their manufacture. Some, such as clay paints, are also breathable. This means ventilation is less of an issue and plaster is less likely to crack.
Opt For Energy-Saving Lighting
Making over an apartment will often include changing some of your lighting. This will not only help create a different look within a space but could also make a room much more pleasant to be in. If you are splashing out on new lighting then go for energy-efficient solutions. If you are re-using existing lights then make sure you replace bulbs with environmentally friendly versions when the time comes.
Go Green With Your Flooring
If you are thinking about replacing your flooring then there are all sorts of fabulous, fun more environmentally friendly options about these days. For a wood look, try reclaimed boards. These can look fabulous when revamped. Other options include tiles made from recycled metal or glass and another possibility, that is becoming very popular these days, is bamboo. This grows quickly and is therefore considered to be a good, sustainable flooring option - and it looks stylish too.
Consider Your Furniture
It has to be said that, when it comes to furniture, the most environmentally friendly option is to keep what you have. So why not consider repainting or reupholstering some of the items you already have in your apartment? You could also move some pieces from one room to another to help you create a whole new look. If not, then consider buying second-hand from the Internet, newspaper, charity shops or auctions. If you really want to buy new then pick up products that have been made from renewable materials. Look for labels that tell you materials have been recycled or are from sustainable sources.
Reduce Waste
Work your way through your apartment checking that you are reducing waste. If need be, install an efficient recycling system. Buy new bins or storage boxes to help you organise better. Choose colours and styles that work well with your new paint etc. Splash out on air-tight containers to help you keep food for longer before binning it. Check that you are not wasting water too. There are all sorts of devices you can install as part of your green make over.
Save Energy
If you are going all the way and having new windows installed, make sure they are double-glazed and meet the requisite standards for insulation. Have draught excluders fitted wherever needed. And why not invite your energy supplier in to give you an audit? Many will do it free of charge and will tell you how energy-efficient your boiler, heater and water systems are. This will help you to consider all your options and to decide just how far to go in your green make over.
You might also like...