Storage Solutions for Apartments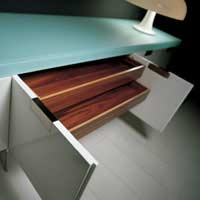 The main problem most people face when moving into a new apartment is the lack of storage for all of the stuff they have accumulated over the years.
Most apartments, whether new builds or old-style conversions, will no doubt lack that essential extra space for you to store things that you don't necessarily need on a day-to-day basis – such as your fake Christmas tree or extra bedding and towels.
There are, however, a few ways of getting round this problem, particularly if you are also furnishing your apartment for the first time.
Doubling Up
One piece of furniture that has returned to the living rooms of most people in the last few years is the coffee table and this is perfect when it comes to that extra storage room.
Many high street furniture stores now produce coffee tables that double up as a storage container. The top, ideal for drinks, snacks and magazines, simply slides open from the middle to reveal a trunk that can be filled with extra throws, blankets, pillows or candles.
A similar item, which has been introduced to the markets much more recently, is the end table. This sits next to the arm of a sofa or chair and acts as a small shelving unit for books and CDs as well as somewhere to place beverages, snacks or decorative candles.
Wicker has also made somewhat of a comeback and although they aren't as sturdy as the aforementioned, they are ideal for storing extra towels or bedding.
But, the most traditional and possible most obvious place often forgotten about when it comes to storage is under the bed. Now, if you opt for a divan then you will have a number of drawers to fill with various things. But, if you want a bed that has a frame, then the space underneath will be spare carpet.
In this case, the best thing to do is either buy plastic containers that can be filled and neatly placed under the bed, or get hold of those new suction bags that you can fill with items and then suck the excess air out of to create a vac-pack.
Recycling Useful Containers
You will no doubt have a suitcase that is sat in your wardrobe patiently waiting for the next time you jet off on your summer holidays. Why not, in the meantime, use it to store things in.
If you have recently moved, you will no doubt have numerous sturdy boxes that can be neatly packed and stored at the bottom or on top of your wardrobe (or under your bed if you have the extra room) – don't throw these away.
If you still find that you are having storage issues then you have just two remaining options.
Firstly, if you have a substantial amount of stuff then you could rent a storage unit. This can be relatively low cost, depending on what size you need, and can be an easy solution to any storage problem.
The second option would be to have a mass clear out and either sell or dispose of all that stuff that you have, but never use and don't particularly need.
You might also like...