Interview With a Gardener: Growing Vegetables on a Balcony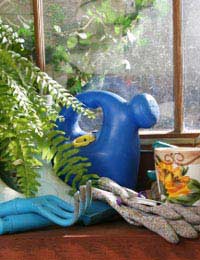 Gardener Jean Sinclair lives in Brixton, London, with her partner Alex, and her baby daughter Iris. She has a small north-facing garden where she largely grows ornamental plants. She also works as a gardener for the National Trust at Red House in Bexley Heath. Here there is a 2.5-acre historic garden with ornamental borders, a vegetable plot, herb garden, a small area of woodland and an orchard.
Q: What size of balcony is best suited to the growing of vegetables?
Vegetables can be grown in the smallest of spaces, a pot on a window sill can provide you with a few salad leaves, for example. On a balcony you can create a container vegetable garden by arranging the containers to maximise the space, perhaps using trellis to provide support for climbing plants, such as beans.
Q: Is it important to have a balcony that catches the sun and is sheltered from the wind?
The amount of sunlight your container garden receives will help you determine what crops will grow best on your balcony. Generally, leafy crops, such as salad leaves, spinach and parsley can tolerate partial shade better than root and fruit bearing vegetables. Root vegetables, such as beetroot, will tolerate more shade than fruit bearing vegetables such as tomatoes and cucumbers, as these require plenty of sunlight in order to thrive. A sheltered position will provide the best microclimate for growing vegetables. You could try positioning some larger plants or shrubs on your balcony to filter the wind if it is a problem. If it is not possible to buffer the wind, you could try growing lower growing plants such as salad leaves.
Q: Which vegetables could potentially be grown on a balcony?
Aubergines, broad beans, beetroots, carrots, cabbage, cucumbers, french beans, herbs, lettuce, onions, potatoes, radishes, salad leaves, salad onions, tomatoes and turnips will all thrive. There are many interesting varieties available from seed companies that have been adapted for container culture.
Q: What containers can be used?
There are many possible containers for growing vegetables. Clay, wood, plastic and metal containers are all suitable. You could recycle old olive oil tins to use as a container, or use a drainpipe to sow seeds in. If you get a bit creative the possibilities are endless! The important thing to remember is to choose a container that is adequately wide and deep enough to allow your choice of vegetables to thrive. The RHS advises using containers that are no less than 45cm in depth and width. Ensure that there are drainage holes in the bottom of your container, and use sterile potting compost in your containers for good results.
Q: At what time of year should seeds be sown or seedlings planted out?
Many of the vegetables I have mentioned can be sown in February or March, under cover. It is always a good idea to check the seed packet of your chosen variety for sowing instructions. Start your seeds in a warm place that receives sufficient sunlight. Transplant your seedlings to their final container when they develop their first two or three true leaves.
Q: How much care will the plants require as they grow?
Your plants will need to be watered regularly, probably once a day, be guided by the weather. Apply water until it runs out of the drainage holes. Inspect plants periodically for pests and diseases, if a problem does crop up, you will be able to take swift action. A feed of general- purpose liquid fertiliser can be applied every two weeks. I like to use liquid seaweed fertiliser.
Q: When would the vegetables be ready to pick and eat?
Depending on what you have chosen to grow, your plants will take time to mature before you can harvest them at their optimum state of ripeness. Check the seed packet of your chosen variety for information on harvesting your crop. If, for example, you have chosen to grow salad leaves, you can harvest your first crop of leaves when they are 2.5cm to 7.5cm in height. Most salad leaves are cut and come again varieties, so you should be able to harvest another crop of leaves in a few weeks time.
Q: Do you have any other tips for someone wishing to grow vegetables on a balcony?
Have fun! Get some seed catalogues to browse through, or check out some websites, and choose your favourite vegetables to grow.
You might also like...