Dealing with Noise in Apartment Blocks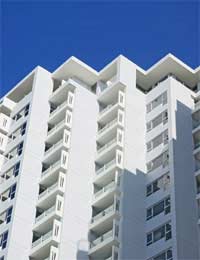 If you have moved into an apartment block, you will probably notice that there is a lot more noise pollution than you expected.
It might be that you have rowdy neighbours, your apartment is located on a busy street or you are always woken up by the bin men once a week - whatever it is, there are some things you can do to quieten things down a little.
Noisy neighbours
If you are living next door to a couple that argue most of the time or that play music really loud, the first thing to do is to talk to them about it.
It is probable that they have no idea that you are affected by them and, if it is the first time that you have confronted them about it, then they will probably be quite embarrassed by the fact that you have heard them fighting about the monther-in-law!
From your point of view, it will be much better for everyone if you can sort the problems out and remain friends, so on your first visit it wouldn't do to show up and be nasty.
However, if you have been kept awake numerous times by your neighbours and are losing patience very quickly, then you may have to take a little more drastic action.
If you are a tenant or have a landlord as part of a housing scheme then you can try to use them as an intermediary. They will be able to talk to your neighbours about reducing the noise pollution without getting angry or losing their patience.
If done properly, they will be able to come to an agreement that suits all involved, such as only playing music at certain levels or at certain times, or moving the stereo speakers away from adjoining walls.
This should be the end of the matter and everyone can get along for the rest of the time you are neighbours. However, if this doesn't happen, you can complain to your local council's noise department.
They will then approach your noisy neighbours and give them an official warning - eventually, they will be evicted.
Rattles and Squeaks
Rattling pipes are usually caused by a lack of insulation and this isn't expensive to rectify. It is often caused when they knock against the solid framework when you start running water or turn the heating on, by wrapping the pipes with insulation, you will stop this.
If the noise is coming from a communal area, such as a creaking door, stairs or a noisy lift, then contact your building's maintenance team or landlord. They will be able to do something about this noise.
If the noise is coming in from the outside, such as the bin men or general street noise, then there are some things that you can do.
If you don't have the spare cash hanging around to kit out your new apartment with double glazing, try putting up heavier, lined curtains to block out some of the noise from your windows.
You might also like...