Reviewing Your Lease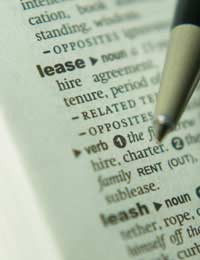 So, a year has passed since you moved into your apartment and the time has come to renew your lease.
You obviously have the option to move out and find somewhere new, but after all the hard work you put in to finding that perfect apartment, chances are you will want to stay put.
However, there are some things that you should watch out for when signing up for another year.
The Basics
Having lived in the apartment for 12 months, you will know your landlord well enough and be able to set up a meeting to discuss staying in the property.
Before this meeting, you should make a list of what you would like to change – for example, if some of the furniture is grotty and needs replacing or you need a new mattress. You should also make a note of anything that has been broken and still needs to be fixed and anything that you have improved whilst you have been there.
If the utilities are included, then you should ask your landlord to review the provider just in case there is a cheaper option available and then prove that this has taken place at the meeting.
Every landlord has different rules when it comes to utilities, sometimes you will be required to pay for them yourself and other times the cost is included in the rent.
The advantage to having it included is that you don't have to worry about sorting out final bills or late payments while you are in the apartment and when you decide to leave.
However, there is the disadvantage of not being able to shop around for the best deal. If you are responsible for the utility bills then you will be able to find the deal that best suits your needs and, possibly save money.
Having the household bills in your name will also help with your personal credit rating - if you don't fall behind on the payments that is.
The Service Charge
If you are also paying a service charge as part of your tenancy agreement, your landlord should be able to provide you with the details of the accounts for the past year. This will allow you to see where your money is being spent.
Again, now is the time to request that your landlord shop around for cheaper contracts – something that will no doubt make a difference to your monthly payment.
The key to disputing a service charge is to carry out your own research and be armed with all the facts before confronting your landlord.
If you have a residents association, go to them for help in researching the costs of the various services. It won't be that difficult to get some quotes for the services that you are being charged for.
This will give you a more realistic idea of how much you should be paying. Once armed, organise a meeting with your landlord and provide him with all the information – he is obliged to take on board what you have said.
Before You Sign
It is important that you are happy with the arrangements made for the next year and if your landlord has been difficult during this process or wants to increase your rent, then you may want to consider finding somewhere else.
But, before you put pen to paper, make sure you are happy and understand everything within the contract. Remember to get a copy for your records.
You might also like...