Living in an Apartment With a Toddler: A Case Study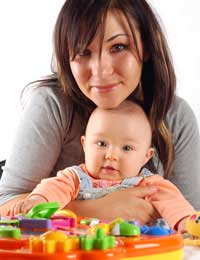 People tend to think of the ideal family home being a house, somewhere in the suburbs, preferably with two storeys. But one family, who are bringing up their toddler in an apartment, say it's perfect.Jenny Creen explained:
"We love big city life and live in an apartment where we can make the most of it. It's one of those big Edwardian blocks right in the middle of Edinburgh. We live on the fourth floor.
No-one thought we were crazy when we first bought the place. They could all see the logic of it. We were able to walk to work and to the shops, and there were lots of wonderful places to eat, drink and visit right on our doorstep.
But then we had our baby, Angel, and suddenly everyone did think we were mad! They couldn't understand why we didn't want to sell up and move somewhere "family friendly."
There are elements of apartment living with a toddler that aren't perfect. But we find solutions to our problems and then really make the most of everything we think of as a benefit.
Living on the fourth floor of an apartment block, which doesn't have a lift, does have its drawbacks. After a few sessions of bumping the buggy up and down, we discovered a niche behind the staircase on the ground floor. Now we leave it padlocked there, so it's no bother at all coming in and out.
My parents were worried about us not having a garden. But we really don't consider it an issue. Angel has the run of the park opposite – there's far more space and it's lovely for her to be able to toddle around with other children in the play area.
Space inside the apartment could have been an issue but we have come up with lots of clever space-saving ideas and so I'm sure she has as much room to play in as any other child of her age. Her toys are slung across her ceiling in a great net and her bedroom wall is full of cloth hangings, where she stores things too. We have slide out boxes for little toys - these fit neatly under her little table where she likes to scribble and paint.
Angel loves the views from up high in our apartment. She watches people and animals walking in street – and was able to name dogs, cats, trees and buildings much earlier than some of her friends, because we'd spend so much time talking about them.
We don't have a car but when we are not pushing the buggy around, Angel rides on the back of one of our push bikes. It's easy to get around the city centre like this and hopefully she's learning that travelling by car isn't the only option. Angel's nursery and the school she'll go to are both just a few minutes away. When she's old enough, she'll be able to walk on her own from here.
We love our apartment home and so does our toddler. Perhaps if she'd been twins or triplets I might have thought differently. But as things are, why change a situation that works well?"
You might also like...