Questions to Ask your Mortgage Advisor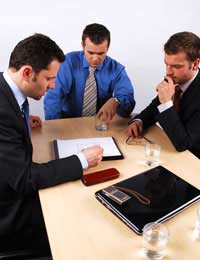 Buying a home can be a very stressful experience, some of which is caused by trying to sort out a mortgage, and this stress can rear its ugly head over and over as you remortgage through the years.
There is, however, help at hand by using a mortgage advisor. Here are ten vital things that your should ask your advisor to make sure you secure the best deal.
The best place to start, when on the hunt for a mortgage advisor, is to ask around. Friends and family might have recommendations if they have been through the process, and if not, then you can search for an advisor in your area on most mortgage related websites - such as www.whatmortgage.co.uk or www.yourmortgage.co.uk.
But, once you have settled on an adviser, there are some important things that you should find out.
1) Are you regulated?
Every mortgage intermediary is now regulated by the Financial Services Authority (FSA) which means that all the information that you give them, they must use to recommend the most suitable product. Should you find that the product is unsuitable, then you are within your right to complain and, in some cases apply for compensation.
2) Which products are being offered?
Not all intermediaries are independent, despite many suggesting that they are. Some will actually work from a panel of lenders selected from the wider market. If you want an intermediary that is truly independent then you need to ask if they are 'whole of market'. If they use a panel, find out how many lenders are on it and if it is less than ten then find another intermediary.
3) What services do you provide?
All intermediaries offer a different level of service, so it is important that you find out how much they can do for you before you agree to use them. Some simply offer advice on what is available while others will provide you with product recommendations based on whatever information you provide. There are, however, some that will take you through the entire application process.
4) What is your charging structure?
It is important to understand how your intermediary gets paid. Either, they will be paid by the lender whose product you opt for or, they will charge you a fee.
5) What is the interest rate and monthly mortgage payments?
When the intermediary has recommended the product you will need to enquire what the interest rate will be and what that rate will revert to once the deal period of introductory offer (if there is one) ends. You will also need to know what your regular monthly mortgage repayments will be, and if you have opted for a tracker mortgage, how much these payments will increase, or decrease, by should the base rate move.
6) What is the total amount I will need to repay?
This figure will inform you of the amount you owe over the total mortgage term using the current interest rate and will include all the extra charges and fees that you might have to pay.
You can then use this figure to compare it with other products available.
7) What about early repayment charges?
Lenders usually charge a penalty if you pay off your mortgage before the end of the term and your advisor should be in the position to tell you what these penalties should be.
8) Do I have the option to overpay, underpay or take payment holidays?
Lenders are not monsters and they understand that sometimes people need to underpay or take a payment holiday - or even, in some circumstances, overpay on their mortgage.
This flexibility can be particularly useful if you get made redundant or run into financial difficulty - or even if you win a small amount on the lottery!
9) What will the product cost me?
It is not surprising that mortgages come with extra fees, not including paying for the advice you have just received. The extra fees could include an admin charge, a booking fee or even a completion fee and they can add up to around £800. However, some of these can be added to your mortgage, but you should be aware that, should you choose to remortgage and switch to a different product, there may be an exit fee.
10) Are there any other services?
Lenders don't just offer mortgages, and over the years it has become normal for some lenders to insist that you take out a home insurance policy with them when you agree to take out a mortgage.
However, you need to shop around for this too and make sure that the deal you are being offered is the best for you and that you aren't just doing it so that you can get a cheaper rate on your mortgage.
You might also like...