The Benefits of City Living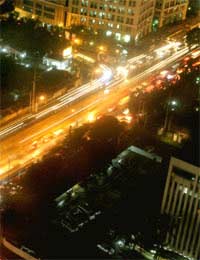 Would you class yourself as a city slicker? Or perhaps you are more of a country bumpkin?
Depending on where you were brought up and your individual personality, you might prefer life in the big city, where things are happening 24 hours a day, rather than being surrounded by fields and the more relaxed pace.
There are certainly many advantages to living in a city, so here are the main one's to get you started:
Population
The main factor that some may find a benefit to living in a city is the fact that there are so many more people. This, of course, can be a disadvantage for some, but for those that enjoy getting lost in the crowds and having neighbours close-by then it is definitely a plus point.
Getting from A to B
Moving from the country, where public transport runs to a fixed, somewhat limited timetable and buses stop altogether before midnight, the City's transport links may come as quite a shock to some.
By far, the biggest advantage to taking up residence in a city is that you can always get from A to B – it may take a while longer, but it is certainly possible without the need to fork out for a taxi.
Cities offer many means of public transportation, including taxis, buses, subways, and airports – all of which run late into the night and are much more frequent.
The World at your Fingertips
Fast paced city life also throws up other things that make the bright lights much more appealing.
People often say that cities are alive, and this is certainly true when it comes to entertainment. It is very rare for a city to sleep and you will find that you can get anything you want, whatever the time!
Imagine, being able to order Chinese food at four o'clock in the morning, go clubbing in the middle of the day or even the opportunity to go ice-skating, outdoors, in the middle of summer. The opportunities are endless.
And, it doesn't necessarily have to be expensive to spend a day out in. Obviously, there are the traditional historical hot-spots to be seen when in any city, but there are other hidden activities to keep you occupied without the need to dip into your pockets.
TV studios and radio are always looking for people to sit in their live audience's, and this is a great opportunity to fill up that autograph book too.
A Head Start
But when it comes down to some good old hard work, there are more opportunities in big cities (obviously this is dependent on your profession – there isn't much demand for farmers in a built up area).
However, with this comes stress, and it isn't surprising to find that many people move to the city in their 20s and by the time they reach their mid 30s are looking to move to the outskirts and commute in, or retreat back to the country for a more relaxed lifestyle.
You might also like...