Top Tips for Recycling in an Apartment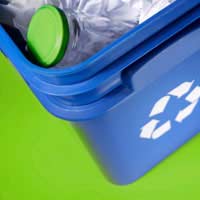 Recycling and reducing waste is an essential part of life nowadays, wherever you live. But for those in an apartment, it can be tricky. It's not simply the issue of storage that can be problematic but also accessing recycling bins and banks, transporting recycling and sharing facilities. Here are some top tips for those living in apartments who are eager to recycle as much as possible
Organise Your Recycling
Rinse tins, jars and bottles out as soon as you have used them and place them in a storage container. That way, your dirty recyclables won't mount up. Keep a large container just outside your front or back door and put your clean recyclables into it straight away. If you want to save trips to the front or back door, buy some cheap, stackable plastic boxes. Use these to separate and store your recycling.
Transporting Your Recyclables
Invest in a collapsible trolley (most DIY stores sell them) and keep it in a cupboard. Use it to help you transport your container of recyclables down to the bin or bank. Alternatively take a few recyclables with you every time you go out and leave them in the communal recycling bin as you pass. Buy a reusable shopping bag that folds down and can be kept in your hand bag. Use it to carry a few recyclables down on your way out. Then fold it up and put it in the bottom of your hand bag.
Recycling in Your Apartment Kitchen
Hang an old pillow case from a hook in the kitchen. Use it for storing newspapers and other paper in until recycling day. Alternatively, save heavy duty paper bags from your shopping trips. Hang one up, fill it with old bags, then carry it down to the bin or recycling bank on your way out, and shove the whole thing in. Hang a pillow case up, or an old stocking, for storing old carrier bags in.
Saving Space in Your Box
If your local authority will accept crushed empty cans then stand them up and squash them before you place them in your box - this will save space. Again, if your local authority will accept squashed plastic bottles, stamp on each one, to make it take up less space, before putting it in your box.
Other Top Recycling Tips
If you have a desk with a PC and printer on it, tape an envelope to the side to keep your used ink cartridges in until you are ready to recycle them.
You could put a jar on your desk for spent batteries. If possible, however, try to use rechargeable batteries.
If you take a packed lunch with you to work, try to use washable plastic containers. This will reduce your waste at home or at work, as well as your recycling.
If you have a balcony or live in a garden flat you could have a small compost bin (or table top bin that creates liquid from waste vegetable matter). This can be used in pot plants or containers.
Kitchen waste could also be got rid of in a wormery. This could also be kept on a balcony.
Where possible buy loose fruit, vegetables and bakery products. This will reduce the amount of packaging you have to throw away or store for recycling.
Try taking a washable plastic container to your local butcher's or fishmonger's and ask them to weigh your purchase straight into. Again, this saves space in your bin and recycling storage container.
You might also like...