Create a Sitting Room - Diner in Your Living Area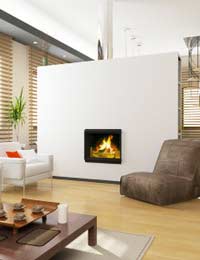 Whether you live in an apartment or in a house, you need to make the spaces you live in work for you. Sometimes this involves creating a home that is flexible and really developing areas that can have several uses. Transforming an apartment living area into a sitting room diner has the benefit of enabling you to really live in all the spaces you have. Furthermore, if you ever come to sell your home it will highlight just how practical a home it really is.
Look at Your Living Room
If you can, clear all the furniture from your living room and really examine the space you have. Think about non-moveable features and where they might fit within your overall design. If you have a fireplace, for example, you are likely to want that to be the focal point of your sitting area. Do you have a TV point in the room? If so, perhaps your comfortable seating will need to be arranged within proximity of it. Which end of the room is closest to the kitchen? This is where you will probably want to establish your dining section. Is there a particularly nice view from any of the windows? If so, is this where you would like to eat or to relax?
Plan Your Apartment Space
Once you have decided where to site your sitting room section and where to position your dining area, it's time to get out the tape measure. Work out how much general space you are prepared to give over to each "zone" of the room. Then dig out an old newspaper and spread sheets out roughly where you would like your furniture to be positioned. This helps to give you a sense of perspective and will enable you to envisage the space you'll have to move around your pieces of furniture. Once you are happy with the plan, measure the pieces of paper so you know just how large or small each item you are bringing into the room can be.
Think About Style
Next you need to decide on the style and colour scheme of the new room. It will need to have a sense of unity and flow, but perhaps you'll decide to vary each end slightly to create some definition. You could, for example, bring one block of colour in down at the sitting room end while keeping the dining area in a fresh off white. Or you may decide to create a feature wall with some interesting and modern paper next to your dining table, while keeping walls blank as a backdrop for pictures in the relaxation area. If you need new flooring, now is the time to do it. Choose a product that will meet the needs of both areas and will pull your new room together.
Choose Your Furniture
Now you are ready to set the room up. Think about whether you are planning to refurbish or reuse old items or whether you will splash out on "all-new" pieces. Sofas and comfortable chairs could be recovered in a fabric that will match your new colour schemes. If you have old dining room chairs, you could reupholster the seats in the same material – and save some for a tablecloth or runner too. If you are buying new pieces, then take your measurements and scour the Internet and retail outlets for bargains. Consider buying your dining table and coffee table in similar styles – once again to create that sense of cohesion.
Light Your Sitting Room Diner
Finally, consider your lighting. Treat your new sitting room diner as two separate spaces and light each one individually. Again, this will give each section its own identity and will allow you to highlight the zone you are using at a particular time. When you have a dinner party in your apartment, for example, your guests will feel as if they are moving from one room to another as you raise the lights in the area you are using, while also bringing them down at the other end of the space.
You might also like...