Thinking about Sub-letting?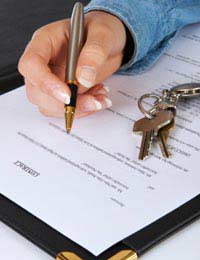 There are many reasons as to why you will need to sub-let your apartment – perhaps you have decided to move into your partners home, are relocating as a result of a new job, or are simply jetting off for a round the world trip.
Whatever your situation may be, you need someone to take on your flat either for the remainder of the lease or until you return.
Obviously, if you own the apartment then this will be very easy to sort out and you will just be looking for someone to cover the cost of the mortgage until you get back. However, the issue comes if you are renting as many landlords don't allow it, and those that do want you to jump through numerous hoops first.
Before you Start
If your contract does allow it, then before you start looking for the perfect tenant, you will have to get your landlords approval. He will need to provide you with all the information that you will need before beginning the process, for example, the person who you want to take over your lease may have to go through an application process, or your landlord might want to interview them before agreeing to the arrangement.
You will also need to find out what the contract arrangements will be. Most landlords that allow sub-letting generally don't put the new tenant's details on the lease and instead, just attach a signed document stating the term that they will be staying there.
Obviously, this could have an affect on you. For example, if their name isn't on the lease then they won't be responsible for any damage to the property while you are away – this will still fall on your head and affect the status of your deposit. You should request that they are named, or at least that the document they sign also means that they are responsible for the rent and maintenance of the apartment for that period.
Starting the Search
This is the time when relying on your friends and family to help you find someone is probably not a good idea.
With most landlords not willing to name the new tenant on the lease, you remain responsible for the property, and the rent, so you need to be absolutely sure that the person moving in will be reliable.
You should get references from the potential tenant, and follow them up to get a better idea of how reliable and responsible they are, and make sure that you meet them in person before you agree to anything.
You should also find out their reason for wanting to sublet, such as they have just moved and want to see what the area is like before committing to a more permanent lease or they are there for a limited time that doesn't suit a normal leasing period.
However, the most important detail by far, is to check the person's rental history. Many people that have a sketchy past in rented accommodation try to sub-let because they don't have to sign a contract. But, they will take advantage and, in some cases, fail to pay the rent or damage items in the property that you will have to incur the cost of.
The Agreement
Generally, if you are looking to sub-let your apartment you will want to cover the entire cost of your rent, but if you are finding it difficult to find somebody you can always offer to split the costs.
Whatever you decide, the important thing is to work out who the money will be paid to – directly to the landlord, or to you first.
Then there is obviously the bills to consider– if you are planning to return to the apartment then these should probably stay in your name, but you will need to make it clear who is responsible for them.
You might also like...