How to Maximise Your Hall Space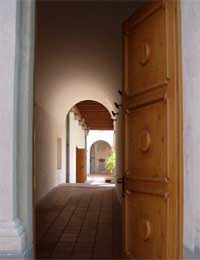 Hallways can often be difficult to make over but when you live in an apartment, they are harder still. Space is often at a premium and it may be difficult to bring light into the area.
Where in a house a glazed door might offer a solution to brightening up the narrow space, in an apartment people often prefer to have solid doors either for safety or privacy considerations.So here are some suggestions for maximising and making the most of your hall space.
First of all make sure you keep the hall in your apartment clear. Remove coats, shoes, boots, bags and umbrellas. If your hall is extremely narrow, then store them in a cupboard or on racks in another room.
If your hall is wide enough, however, why not bring in a slim, low cupboard. This can double as a hall table and can be used for keeping shoes and bags in.
Head to a discount store or search about on-line for cheaper baskets or open boxes to put inside the cupboard. This will help you to organise shoes and other items.
See if you can find a narrow umbrella stand that will fit in the wasted space behind your door. This will look neat when the door is shut and will be hidden to visitors stepping in, when it is open.
Colour and Light
Create an illusion of space through colour. Dark shades on the walls of your apartment hall will just make it look small and, if you have a long thin space, then it will appear to be tunnel-like. Team up different shades of white and off-white.Follow this theme on under foot too. Instead of opting for dark carpeting or flooring, keep it as light as possible.If you have a long, narrow hall, try bringing in long floor boards. This will bring a sense of flow to the space.
Complement your light colour scheme by bringing in a couple of mirrors. Place these at different points on opposite walls to reflect what natural light there is.
If possible, place a table lamp on your hall table. This will bring more light into the area, especially in the evening.
Look for narrow shelves that can be mounted above a hall table or a set that can stand up in place of one. Upper shelves could be used for books while lower ones could be kept for every day items.
Use the Space
If your hall is wide enough or more oblong in shape, consider whether it could almost be used as another room. Bringing in children's toy storage boxes could transform it into a useful play area, a piano against the wall could make it the music room or a comfortable chair could transform it into somewhere else to sit if you are short of space.
If you need somewhere to sit and work in your apartment, consider bringing a workstation into your hall. Some will slide back neatly into cupboards. Others can be designed to fold away into themselves.
Some apartment dwellers with more generous, square-shaped halls could also consider keeping a table with its leaves down against one wall. This would be used as a hall table for every day life but could also be pulled out and set with cutlery, candles and crockery when guests come over for dinner.
You might also like...