Make Over Your Kitchen on a Budget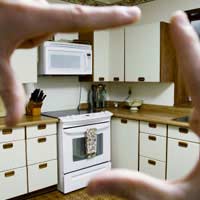 Everyone knows that fitting a new kitchen can be expensive but if you want to achieve a new look then it doesn't have to break the bank.
The kitchen in your apartment can be given a fresh style following a make over that really can be achieved on a budget, especially if the room is small. The key is not to rush into it and to give yourself enough time to hunt for bargains.
Spend time looking at magazines and online to decide what you are hoping to achieve - and then throw yourself head-long into your project and go for it with all guns blazing.
What Do You Want to Change?
First of all, decide what you are fed up with. Have you have enough of your units? Or is it simply the colour on the walls you want to change? If it is just the walls, then hunt for some bargain paint.
Check out all the usual places, such as DIY stores, to see what deals they have available, but don't forget to surf the web, hunt through the newspapers and check out smaller shops too. A bright new colour scheme on your walls will certainly give your apartment kitchen a fresh, new look.
Should You Tackle the Units?
Investing in a whole new kitchen doesn't have to be as expensive as you might think. Again, look for sales in stores and on-line, and trawl the auction sites and small ads to see what people are selling privately. You might be surprised and find you can actually go the whole hog. If not, then a cheaper option is to change the doors on your cupboards. It's amazing what a dramatic effect this can have, especially in a small apartment kitchen.
If you don't even want to replace unit doors, then how about giving all the cupboards a lick of paint? Choose a nice colour that blends well with your walls and is suitable for the material you are painting on to - and your kitchen will be transformed!
Surfaces and Splash Backs
Go a step further and make over your counters and work surfaces. Again, these need not be overly expensive to completely replace if you seek out a bargain - but a cheaper option might be to re-tile a surface. Choose tiles than can be teamed up well with the shades on your walls or cupboards but that perhaps also bring in a good, strong accent colour. You can follow the theme on by creating new splash back areas using tiles from the same box.
Accessories Work Well in a Make Over
Finally, change some of your accessories to add to the look and to work in with the new interior design for your apartment kitchen. Decide on one colour or style - perhaps the accent colour of your tiles and then look for bargain items. You could go all the way and seek out pieces such as a new kettle or toaster, or you could go for smaller accessories. Try bringing in a towel and tea towel in the new shade, as well as dishwashing brushes, a cutlery drainer and washing up bowl.
Finally, by changing your blind or curtain you'll also affect the whole style of the kitchen. Then give your room a last elegant touch by bringing in a bottle of olive oil, some plain glass storage jars and perhaps a bottle of wine or two to position enticingly on the window sill.
You might also like...