Space Saving Solutions for an Apartment Playroom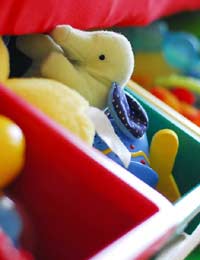 Toys, toys and more toys! Where do they all come from? Anyone with kids will know that, despite your best intentions, toys just seem to breed. Your baby is born and you have one or two precious cuddlies – then before you know it, your youngster is six years old and you can't move without stepping on a plastic building brick or skidding on a toy train. For those living in apartments where space is limited, storing toys can be a particular problem. Here are a few great space saving solutions for your apartment playroom that will not put a huge dent in your household budget and will certainly make walking from room to room a lot safer!
Hook Them Up
Make the most of your apartment ceiling space. People store things on walls and on floors but they rarely think of making the most of the space above them. These days it is very cheap to buy toy nets. Attach one to the four corners of your apartment playroom and then fill it with light items such as teddy bears and other soft toys. You can also buy netting shelves that can be hung from the ceiling by a hook. They will enable you to divide and sort the toys to make tidying up easier.
Use Your Apartment Wall Space
Line every wall in your apartment with shelving. You can even go high up out of your child's reach and put paints, glue, clay, and other items you don't want them getting their hands on alone, right up at the top. At lower levels, place picture books and toys you are happy for them to help themselves to. Design shelves of different sizes so that everything from boxes of toy cars to board games has a place. If need be, televisions and music systems can also be given a bespoke space within your wall storage solution.
Storage Bins and Boxes
Discount stores, DIY shops and on-line outlets sell piles and piles of cheap storage bins and boxes these days that will be ideal solutions for your apartment playroom. Some will be specifically designed for storing toys in while others have been made for alternative uses but can also be perfect. Think "out of the box" and snap up plastic dustbins with lids, washing hampers and stackable shelving for vegetables. Tool boxes make great places to keep stationery and tiny sets of draws for ironmongery, such as screws and nails, are great for arts and craft accessories.
Adapt Furniture
Think about storing toys in and under furniture in your apartment playroom. There are some great kids' tables these days that have toy bags and boxes built in but you can also buy very cheap wooden, stand-alone, deep shelving units. It's then easy enough to find your own boxes and baskets that will fit perfectly and slide in neatly. Consider buying plastic boxes with lids that will roll under sofas and chairs and you can even find special seating with "liftable" cushions that actually have storage spaces within them.
You might also like...