Finding a Room Mate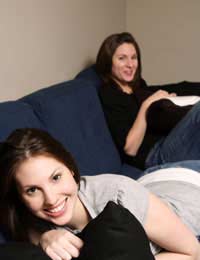 So, you have moved into your own place and now you are about to start the rigorous process of finding a suitable room mate.
It may be that you are just a bit lonely and want some company or, and perhaps more serious, you can't afford to live alone anymore and need some help paying the mortgage by renting out your spare.
If you have moved to a new area, too far away from your parents to even consider moving back home for a little while, trying to find a room mate will be very challenging and stressful - but, with a little help, it doesn't have to be.
The Perfect Match
Finding the perfect room mate is very important because, not only will you be spending quite a lot of time in their company and sharing space with them, you will also be sharing the bills, cleaning and shopping.
The first thing that you need to think about is whether you want to live with a friend or a stranger. Sharing with your best friend, however appealing it may sound, can take its toll because you know this person well and while that can be comforting, all those niggling things that get to you now can escalate if you are spending every waking minute together.
However, while there are negative aspects to moving in with a friend, there are just as many positives. For example, you already know them and can trust that they have your best interests at heart. If you lend them money, you know that they will pay it back, they won't steal from you and if the time comes when they need to move out, you can trust that they won't leave you in the lurch.
There is, of course, a problem with the 'moving in with a friend' idea if you have moved to a brand new area and haven't made any friends yet.
In this situation you will have no choice than to find a stranger that needs a room. Now, this is where the stressful experience starts.
There are many websites where you can list rooms available for rent, such as gumtree.com, and by doing this you will no doubt get dozens of responses.
The best way to avoid getting lumbered with a crazy, or at the very least unusual, room mate is to approach this task with the same mentality that you would when looking for a new job or when you are going to buy a new car - ask questions.
Find out the basics, such as what they do for a living, their hobbies and whether they smoke or drink - after all, you wouldn't want to get stuck with a chain smoking alcoholic that plays the electric guitar and whose job keeps them out until three in the morning.
The next step is to find things that you have in common, such as what films or music you like, what their favourite food is and perhaps what kind of people they hang around with.
If your lease allows pets, ask them if they have any and if you have one, make sure you inform them of it - they could be allergic.
The Formality
You might think that your new room mate is destined to be one of your 'best friends' (if they are not already), but that doesn't mean you should place all of your trust in them.
Before they move in, have them sign a formal contract that requires them to give you a minimum amount of notice before they move out and, if you feel it is necessary, ask for a refundable deposit to cover any potential damage.
They might be the perfect room mate, but it is better to be safe than sorry.
You might also like...