Setting up your Utilities When you Move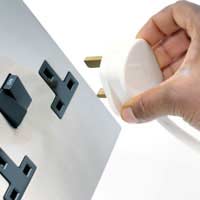 Moving is stressful enough without the added complication of trying to set up all of your utilities surrounded by packed up boxes and half finished rooms. Here are some handy hints to help you through.
You may have brand new furniture and a fantastic apartment, but the one thing you will want when you get through that front door is a cup of tea and, depending on the time of year, perhaps a little bit of heat. But, if you haven't planned ahead, then this could prove a difficult task.
Getting Switched On
Your water, electricity and gas are the most important utilities and ones that can be set up before you move.
If you are renting, then these will all already be switched on, but you will have to inform the provider of the date that you moved in. This is so that they can change the name, and also so that you don't end up paying the previous tenant's bill.
If you have bought your apartment, however, the process is a little more complicated. It is possible that the water, electricity and gas will all have to be switched on again, so you will have to get in touch with the local provider.
They will need to know your moving date and may have to send someone out to the property. In most cases they will simply start the utilities on the day, or a couple of days in advance, so that when you arrive everything is working and you can get on with the rest of you day.
Do bear in mind though that you don't have to stay with the existing provider, whether you are a renter or owner. If you want to switch energy providers, then you should shop around for the best deal.
Phone home
Most people who move house now have a mobile phone, so they aren't out of contact at all. But, that doesn't mean you won't need a landline installed in your new place.
In most cases the need for a home phone is simply for the Internet, but you will still need to go through the motions of getting it set up.
If the property is a new build then BT will have to send out an engineer to fit the line, after which you will be ready to go. If the apartment is slightly older, there will probably already be a line installed, so you simply have to call BT to provide you with a number.
There are other providers that have good packages available depending on your requirements, but you will still have to go through BT in the first instance because they have the engineers.
Last Minute Details
There are some other things that will need to be set up, such as direct debits for your TV license, council tax and home insurance.
The TV license is required if you simply have a television set and the price varies depending on the type of TV and what your circumstances are.
It is important that you set this up as soon as possible because you will get caught out and fined up to £1,000.
When it comes to council tax and home insurance, you are better off setting these up as soon as you can. Obviously you have to pay council tax and you local council office will be able to help you with that and inform you of any benefits you are entitled to.
Home insurance isn't essential, but you should consider it.
You might also like...