Moving with a Pet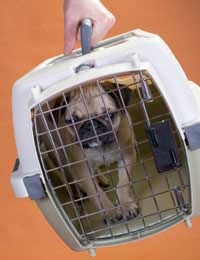 The time has come, all of your things are packed away and the moving van is outside. You are ready for the off, until you realise that your dog is searching for his favourite chew toy.
Moving with pets comes with its own set of challenges, but there are some steps you can take to make sure that your pet gets to its new home safely.
Travelling With Your Pet
All pets react differently when travelling in a car, some get travel sick, others whimper and cry, and some will just go to sleep or try to look out of the window.
You will no doubt know what kind of traveller your pet is. If it doesn't do well, then you could get some advice from your vet.
However, most vets don't like to prescribe sedatives unless it is absolutely necessary so you are probably better to try some natural things first.
Preparing Your Pet
The funny thing about animals is they can somehow sense change, so you will notice your pet acting differently around the house the night before moving day.
The first thing to do is to get out the pet carrier and leave it open with one of your pets toys and its blanket inside. This should help to keep your pet calm when it is time for them to go into the carrier and leave for the new apartment.
There is also a product available from your local pet shop called Serene-UM, which is ideal for dogs and cats. This is a natural calming sedative that will help to stop your pet from reacting to the stress of moving.
Simply put a few drops on your pets food the night before and on the morning of moving day and you will probably find that your pet will sleep for the entire journey.
If you are travelling with hamsters, rabbits, gerbils or birds, then you probably won't notice any difference at all. however, you should keep the bird cage covered over so that they sleep for the entire journey - birds don't travel well.
Arriving at Your New Home
When you finally arrive at the new apartment you should leave your pet in the carrier until all the to-ing and fro-ing is over and no strangers will be entering the house.
At this point you can let your pet out so that it can explore its new pad. Make sure that you show it where its food and water is and also where it can go to the toilet. This is very important, if you don't your pet will probably urinate on your lovely new carpet.
You should also register your pet with the local vet as soon as you can and book an appointment for a check-up. In some cases, fretting pets can cause themselves damage when inside their carriers and a quick check over will discover if this is the case.
The last thing to remember is that even the most laid back animal can get angry if they are in a new area, scared or fretting, so for the first few days you should be careful when letting your cat outside and always keep your dog on its leash.
You might also like...