Window Boxes: The Basics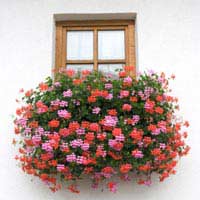 You might think that living in an apartment in the city will prevent you from putting your green fingers to work, then think again.
If you have a window, or even a balcony, then window boxes are the perfect way to brighten up the outside of your new apartment.
However, making sure your window boxes thrive can be a difficult task so here are some tips to make sure that your apartment-garden looks its best all year round.
Getting Started
The biggest task facing you when you decide to embark upon creating a window box is choosing the right flowers and plants for your surrounding environment.
For example, if your apartment has a lot of sunlight you will have to choose plants that thrive on that as opposed to ones that will wither away due to lack of shade.
Flowers have a particular style too, so it is important that you choose ones that will compliment the exterior of the building. If the outside of your building is quite boring then you should opt for a bright bloom such as the sunflower and if the outside of your building is full of beautiful architecture then perhaps something more sedated like daisies would suit.
Getting Dirty
So once you have the flowers picked out, you have to get stuck in. Make sure that the window box fits the ledge and that it has sufficient drainage.
There are loads of types of window boxes to choose from - plastic, wooden or metal, all of which give off a different feel.
The first step is to fill the box with compost, you will be best off asking someone at your garden centre for advice on what type to use for window boxes. you can't use soil from the ground because this is too dense.
Then you have to water it, make sure that it is moist before the plants go in. Then you can start digging and planting.
Making Arrangements
You might not know it yet, but there is an art to arranging window boxes, but it doesn't have to be that complicated.
As a first-time gardener there is nothing wrong with planting your box on looks alone. First of all, you should read the directions on the back of the packet of seeds, this will give you an insight into how the flower will grow and how much room it will need.
For example, if you are using bold colours then balance them out with paler ones and perhaps some general foliage.
And once planted you should water the flowers well. In the future, however, some flowers only require to be watered when the soil is dry to the touch so make sure you don't drown them!
After Care
To enable your seedlings to grow and flourish you will have to take very good care of them.
Look out for any dead or dying flowers and be sure to remove them because they will affect the other plants in your window box.
And finally, keep your flowers watered like it says on the packet and your window boxes should remain beautiful.
You might also like...