Make the Most of your Apartment Space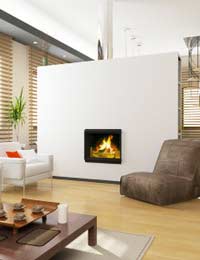 If you have just moved into your first apartment, you will no doubt be very excited at the prospect of furnishing it. Here's a quick guide to making the most of your space.
Apartments are not known for their vast amounts of space, but when it's empty you will probably think its extremely roomy – don't worry, filling it is very easy.
You will be surprised at how quickly an apartment can start to feel cramped just because the furniture that you decided on doesn't really fit.
Fill the Gaps
Apartments these days are usually fairly open plan – your living room, dining room, and possibly even kitchen, will blend into one giant space, which can make segregating areas a difficult task.
It can, however, be done with a little imagination and the right kind of furniture. For example, your sofa can be used to separate the living and dining areas, or you can determine which room is which by simply having a focal point.
So, for example, in your living area, if you don't have the luxury of an open fire, why not make your entertainment area (TV, Hi-Fi) the focal point, or even place an intricately designed rug in the centre with a coffee table – showing it as the place to relax and unwind.
Similarly, there is nothing stopping you from making the most of your dining table. It can often work to your advantage to place this is a neat corner relatively close to the kitchen.
The trick to keeping this area separate from your living room is to make the most of your dining table. Always have your table covered with a nice table cloth and identify the place settings with accessories that tie in with the colour theme you have adopted in the rest of that area.
Also, try to always have candles or flowers as a centrepiece for the table – this will draw peoples attention to it and they will instantly regard it as the dining area.
The trick with both of these rooms is not to try and cram lots of furniture into a space just to make it feel like a particular room should.
So, perhaps opt for a two seater sofa and an armchair rather than a three-piece suit complete with footstool and recliners.
And the same goes for the dining area, never try to squeeze a table into a space. If a six seater won't fit on a day-to-day basis, then there is always the option of a four seater table with a loose leaf. That way you can still accommodate extra guests if you are planning to hold a dinner party, but for everyday use, you aren't continually bumping into it.
Drifting Away
When it comes to the bedroom, it is very easy to want everything – a king size bed, a dressing table, chest of draws, bedside tables and wardrobes – but it is very rare, unless you have a stately home, that all of this will fit.
Perhaps you could consider fitted wardrobes – companies such as MFI and B&Q have beautiful fitted bedrooms and are more than happy to help you plan in everything you want – from a shoe cupboard to a window seat.
But, if you think this will just reduce the overall size of the room by to much, then you will have to separate what you need with what you would like. The essentials, such as a bed, wardrobe and drawer unit will obviously come top of your list – and then, if there is room you can measure up for bedside tables etc.
There is also the option of purchasing a bed unit that comes complete with headboard and fitted bedside tables, but make sure you measure the space correctly.
And, possibly the most important thing when furnishing the bedroom, is to take advantage of the drawers (or space) under the bed – this is very valuable storage space.
You might also like...