Make Your Apartment Energy Efficient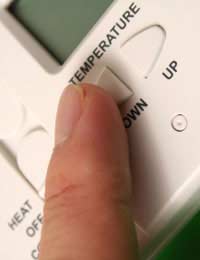 Being energy efficient can be very simple and not only will you be doing your bit for the environment, but you will also be saving yourself some money too.
There has been a lot of talk lately concerning carbon footprints. We have seen many large companies attempting to reduce theirs, for example, Richard Branson is working hard at producing energy efficient aeroplanes.
But even in the absence of a multi-million pound company, there are steps that individuals can take to make their homes energy efficient.
Back to Basics
So lets start with the simple stuff.
Your first steps to becoming energy efficient needn't break the bank, or take a long-time to do. For example, simply replacing your light bulbs with energy-efficient ones will save you money over the long-term.
You might think that this is expensive to do all at once, but, on average, they use around 80 per cent less electricity than normal incandescent bulbs.
Obviously, with winter nights drawing in, not only will you be using your lights more, you will also start using the heating.
Purchasing a jacket for your hot water cylinder (if you still use one) is a very good way of preserving hot water and costs as little as £12 for a mm thick coat.
This simply step will cut down your emissions by up to 160 kilograms a year – not to mention cut £20 off your annual heating bill!
If you team this up with properly setting your thermostat to heat only the rooms that you will be using at a certain time, then your emissions and costs could be further reduced.
Taking the Next Step
Once you have done these things you will have no doubt caught the energy saving bug! The next step is a little more hands on.
First of all you should bleed your radiators. This basically means that you will release the trapped air that will have built up over time reducing the efficiency of your heating system.
It is a relatively simply procedure, just turn off the heating and slowly loosen the valve to the side of the radiator. Be ready with a bucket or a pan in case water starts to drip because it is usually black water and will stain your carpet.
However, the big, and probably most effective, investment you can make when taking steps to make your apartment energy efficient is insulation.
Green Deal and ECO
There are lots of new initiatives that could help you install energy saving measures like insulation and boiler for free or very low cost. Check out the various green deal sites to find out if you qualify. If you're an installer looking to get PAS2030 accreditation we like
to help you get certified
quickly and efficiently.
The Energy Saving Trust has found that more than half of the heat that is lost from a home is through the walls and the roof.
Now, it all depends on how much you want to spend and, of course, what you have that needs insulating, but, on average, cavity wall insulation is around £500 and can save you almost £100 in your annual heating costs.
If you have wooden floors, these can be insulated by simply placing a wool padding underneath them. This process costs around £90 and will cut your carbon emissions down by 350 kilograms.
The More Expensive
Moving onto the more expensive ways to make your apartment energy efficient – you could get double glazing.
Double glazing has been proven to reduce the amount of heat that is lost though windows by half. The cost of this varies depending on which company you choose to carry out the work, but it will cut down emissions by up to 740 kilograms a year.
Another thing to do would be to buy a new energy efficient condensing boiler. These are very pricey, but work wonders, saving you £200 and 1.7 tonnes of CO2 every year.
You might also like...