Protecting Your Pet from Household Dangers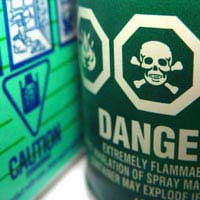 Owning a pet is a big responsibility and it may come as a surprise to learn that everyday household materials could prove to be life threatening to your furry friend.
However, before you start splashing out the cash to 'pet proof' your apartment, you should be aware of those things that are the most dangerous and take the necessary precautions.
Making It Obvious
There are some things that everyone should know poses a threat to animals – rodent poison and insecticides being the ones most commonly found in the home.
Now while these will only make your pet sick if consumed by accident in small quantities, if they were to eat a substantial amount they could be in serious trouble.
People often forget this, particularly insecticides because they are placed on plants outside where cats and dogs are free to roam, but there are organic products available that won't harm pets at all.
Chocolate or cocoa is another common item that is poisonous to pets.
A Deathly Combination
There are, however, other products that frequent our homes that will lead to the death of a pet, for example, certain brands of antifreeze. These can be very poisonous to animals and animals are attracted to them because of its sweet taste created by the ethylene glycol – just one teaspoon of this could kill a cat that weighs seven pounds!
Unbeknownst to many, certain treatments for fleas or ticks that are available to purchase over the counter can also cause health problems in animals. In cases like this you should ask your vet for advice on which products are safe for you to use to treat you pet.
Recycling The Family Waste
You often see images on the TV of dogs, and sometimes cats, being fed the leftover meat from the Sunday roast and no-one really things twice. However, what many people don't take into consideration is that just a small bone that we humans could simply crunch with our teeth could scratch, choke or even puncture the lung of an animal.
Other food items such as onions or onion powder, alcoholic beverages, yeast, coffee, salt, tomatoes, potatoes and the leaves or stems of rhubarb are also harmful to most household pets.
Child's Play
When it comes to your pet's toys, you should apply the same caution here as you would to a child.
Squeaky toys or toys that have plastic eyes or removable parts pose a particular risk to small animals simply because they can be swallowed and cause choking.
You must remember that your pet's teeth are quite sharp because of their instinct to hunt so they will have no trouble at all pulling apart a toy. The same notion applies to chews. These may be designed for your pet, but they do still pose a choking risk if not chewed properly. Obviously you can't scold your pet for rushing his treat, but do keep an eye out just in case.
If you think your pet has been poisoned, or is choking on something, call your vet for advice immediately.
You might also like...