Bring the Outside in: Indoor Gardens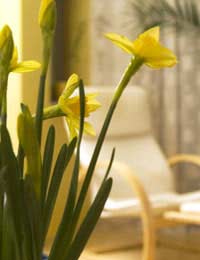 If you have recently moved into an apartment in the city, you will probably miss the amount of greenery that usually surrounds you, but bringing the outdoors in can be a cheap decoration tip and can also help you develop a green thumb.
It doesn't matter whether or not you are a master gardener, developing a green finger can be quite easy once you know how. And, not only will you be rewarded with a number of beautiful indoor plants, but you will also benefit from cleaner air and less house dust and allergens.
Getting Started
It is easy to get started when it comes to house plants, mostly because you don't have to wait for a nice day or plan the area that needs planting.
First of all you will need to find a selection of planters that you like - depending on your personal style, these planters can be anything from old buckets to coffee mugs but for most, a normal plant pot is best.
The general rule when it comes to house plants is to plan having three full-sized plants for each 150 square feet and at least one in the bedrooms.
Choosing the Plants
There is a very wide range of house plants available and some take a very experienced gardener to look after, so when it comes to choosing what type you want in your apartment you should question your own experience.
If you are a complete beginner then it will be best to opt for something like a spider plant, an orchid or a leafy pathos.
If your think you have more time to lend to looking after your plants, then perhaps a Jade, dragon tree or any other small, tree-like plant, would be better suited.
And for those that have a lot of time to nurture, care for and grow their indoor garden, then delicate plants, such as bonsai trees, would be ideal.
Maintaining Your Garden
So once you have chosen your plants and brought them home, you will need to plant them and place them in the perfect position.
It is important that you follow the instructions that comes with the plant with regards to how to look after your new plant - some prefer to be in direct sunlight, others prefer to be well watered.
You must remember that not everyone can be an expert gardener straight away, and there will be some casualties along the way, but the important thing is to understand what your plants need.
Every plant reacts to certain situations and what they do ultimately sends a message for what they need. So, for example, if your plants leaves start to turn a yellow colour, then you should try changing the environment or perhaps you have been watering it a bit too much.
Other signals, such as the tips turning brown or the leaves going dry are a sign that you aren't watering the plant efficiently or that the humidity in your home is not ideal for that plant.
You might also like...