Making the Most of your Balcony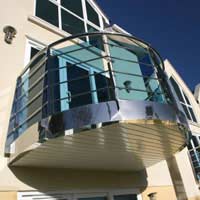 If you are lucky enough to have a balcony with your new apartment, then be sure to use it to its full potential and not just for storage purposes.
Because balconies aren't often very large, people tend to use them to store bicycles, tools, and unwanted furniture. But, balconies can actually be turned into a lovely outside space where you can go and relax simply by adding seating, small plants and using your imagination.
Take a Seat
Outdoor seating comes in all different shapes, sizes and styles, so it is really dependent on your personal style. The only tip would be to choose something comfortable.
Some people opt for a bench style and choose to fill the balcony with plants to create a kind of jungle wonderland right outside their lounge.
Others opt to make it a small patio area, with two chairs and a table to provide somewhere to enjoy summer meals and the sun.
You could go all out and choose a porch swing or hammock – whatever your choice is, just make sure it is waterproof and easy to clean, you don't want your new furniture to get ruined with the first British shower.
Green Fingers
Once you have decided on the style of furniture, you can start planning what kind of plants and containers you want.
The biggest task facing you when you decide to embark upon a bit of gardening is choosing the right flowers and plants for your surrounding environment.
For example, if your apartment has a lot of sunlight you will have to choose plants that thrive on that as opposed to ones that will wither away due to lack of shade. Flowers have a particular style too, so it is important that you choose ones that will compliment the rest of the apartment and outside space.
If the balcony, for example, is galvanized metal, then you could opt for a bright bloom such as the sunflower and perhaps modern quirky containers, as opposed to if your balcony was mostly wooden where you could get away with pansies and old cottage style containers.
Enjoying the Summer
There are a lot of products now available to help make balconies that perfect outdoor space.
You could get your hands on a small kettle BBQ, ideal for small spaces and they come with a lid too so you minimise the risk of setting the rest of your lovely balcony and apartment on fire!
There is also synthetic grass available for city apartments. This might sound a little unusual, but it is quite nice really. It isn't like Astroturf which is quite prickly and rough, this grass actually feels quite oft under your feet and it is made especially for the outdoors so it doesn't matter how much it rains on it, it simply drains off and dries out naturally – like real grass!
Following the Rules
Depending on what type of property you live in, rented or apartment block, there may be certain rules written in your contract as to what you are allowed to have on your balcony.
Some apartment blocks, for example, don't allow residents (whether they are owners or renters) to put up washing lines or satellite dishes. This is to preserve the outside of the building and to make sure that it doesn't look unsightly to passers by and have a negative impact on surrounding properties.
This makes it very important for you to check your lease, or with your landlord, before you start drilling holes and fitting extras onto your balcony.
You might also like...