Top Apartment DIY Tips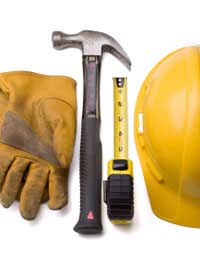 When it comes to DIY, it is easy to make a small, relatively simple refurbishment job into one that will cost a lot of money and take a lot of time if you don't do it right.
However, if you really want to make some changes around your apartment, here are some handy hints to make sure you don't create a big, costly mess.
Small Changes
The easiest thing to do if you fancy a change, but don't necessarily trust yourself with some extreme DIY, then why not try re-arranging the furniture. For example, pull your sofa away from a wall and place it diagonally across the room to make the area look wider.
Large rugs and plants are also a good way of creating a new atmosphere or feeling in a room without taking too much drastic action - try using large patterns or bold colours here.
Going a Little Bit Further
Alternatively, you could try creating a feature wall. Obviously, the easiest way to do this is by decorating it in a bold colour using paint, or perhaps hang a large piece of wall art. Then you can have some fun finding matching accessories and accentuating that colour throughout the rest of the room, giving the impression of a much larger refurbishment job.
The other option, of course, is to decorate with wallpaper. This is a much more time consuming job and can make a lot of mess if not done properly. If you think you can handle it, first of all you will need to prepare the wall.
Strip any existing wallpaper and wash the wall, then apply lining paper. This should be placed on the wall horizontally, that way when you put the wallpaper on the top it won't slide.
Once that is dry - and it takes around 24 hours - you are ready to paper the wall. Start from one edge of the room and start papering, if you are using a patterned wallpaper then you will have to match up the patterns. The packaging should tell you how often the pattern is repeated.
Once each piece is hung, you will need to smooth it out and cut in around the edges - do this by using a wallpapering brush and pushing the paper into the edges to form a crease, then cut along the paper in one go. Just make sure that you use a very sharp knife for this and be very careful not to tear the paper.
Creating Something New
Obviously there are lots of things you can do when refurbishing your apartment, from redecorating to creating a brand new room with partition walls, the one thing you must bear in mind is that you should only undertake a DIY job if you are fully aware of what you are doing.
There are many cases where people have undertaken a simply job like replacing a shower unit, and have finished up with a flooded bathroom - think carefully and research the process before you start.
Also, before your start any DIY in your home, you should make sure that you are fully insured. There would be nothing worse than the refurbishment going wrong and you having to shell out thousands of pounds to fix it.
You might also like...