Creating an Office in Your Apartment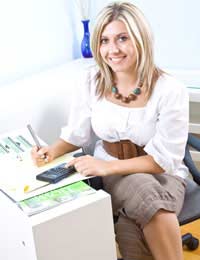 More and more people are working from home these days. If you are lucky, you have a dedicated office space. If not, you need to set yourself up somewhere in your home, you need to create a work station where you can really focus and get down to business. Space in an apartment is often limited, therefore setting up an office can often be tricky. Here are a few pointers that might be of help
Define Your Office Needs
Think about what you need your apartment office for. Will you be working in your new space full-time - or is this somewhere you'll use simply to catch up at the evenings and weekends? You need to consider how much privacy you'll need. Are you someone who can work with others around or will you have to be able to shut the door? Are you likely to be on the phone and therefore will it be important that there is no background noise?
What Office Equipment Will You Require?
Then you need to consider what additional equipment you'll need to set up in order to be able to work in your apartment office. Do you need lines for a telephone or fax to be able to work? Will you need to have broadband connection? Perhaps you'll need a scanner, a table-top photocopier or a shredder. Will you need to bring lighting in? And, course, will you need a table top PC or do you plan to work on your laptop?
Thinking About Your Desk Area?
Once you've worked all this out, think about how much surface space you'll need and levels of storage required. Will you be able to get away with just your computer space and a few shelves or do you need a whole work station and possibly filing cabinets? Will your workload, and the type of work you will be doing, allow you to tuck yourself away in a corner – or realistically are you going to have to find a reasonable amount of space in your apartment to transform into an office?
Small Apartment Spaces
Now you come to the crunch. You have to opt for a location in your apartment for your office – and stick to it. If you have decided you can manage with very little space then consider a hideaway desk. These days there are all sorts of fantastic solutions that can be tucked into fitted wardrobes, cupboards, pantries and the corners of areas, such as halls, living spaces and even kitchens. Find a location that ticks all the boxes in terms of privacy and proximity to sockets etc. Opt for wireless broadband and a cordless phone – and set it up elsewhere in your apartment. This will reduce the need for wiring within the tight space.
Roomier Apartments
If you have the space to convert a whole room into an apartment office and you really do need to be able to shut the door on the world then consider your options. Do you have a spare bedroom you could take over? Could you eat in the kitchen or sitting room to enable you to convert the dining room into a study? Perhaps you don't have a whole room that could become a dedicated office – but would it be possible to set yourself up in one half of another room? Perhaps the dining room is rarely used? Or the guest bedroom? Failing that, you could even take over part of your own bedroom or the living space. How successful this will be depends on the people you live with and the hours you plan to work.
Find the Furniture
Finally, surf the net and search stores for good quality, yet reasonable priced, office furniture for your apartment. If you have money to spend you could call a firm in to create something bespoke for your space. If you need to do it yourself, there are all sorts of cheap flat pack options these days that look great when put together and will allow you to get on and work comfortably in your newly created apartment office.
You might also like...