Unusual Apartment Pets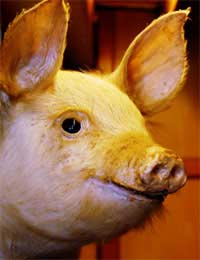 An apartment can feel much more homely once a pet is introduced, not to mention they help if you have recently moved into a place on your own.
However, landlords and new build 'leasehold' properties often don't allow conventional pets, such as cats and dogs, because of the risk of interior damage or noise.
This means that you have to think outside the box and opt for a pet that wouldn't have otherwise crossed your mind.
Doing the Checks
The most obvious pets to settle for in the absence of a cat or dog would be a goldfish, a hamster or, if you have a balcony, perhaps a rabbit. However, you could opt for something a little more exotic.
Before you settle on any form of exotic pet, you will have to check the local regulations to make sure that you are allowed to keep one at home.
Many people don't do this and when they realise that they can't really look after the pet, they simply let it out into the wild. The unfortunate thing is that these animals, or reptiles, don't know how to survive and either get killed by other animals or crawl into other houses and run the risk of being frightened and biting an innocent person.
It is also probably a good idea to double check with your landlord to see if there is a problem with you having the pet at home. After all, you don't want to lose any of your security deposit or risk being evicted.
Sugar Gliders
These animals look a lot like squirrels and are native to Australia, New Guinea and Indonesia, but have increasingly become good house pets, particularly in the US.
They are sociable, and interact well with humans, although, if you don't have the time and patience to provide them with constant attention, then it may be in your best interest to opt for a pair. They also suffer from few health problems and can live up to 15 years in captivity.
Sugar Gliders are active little animals, so need lots of room in their cage. Because they like (and need) to climb and jump, the amount of vertical space is more important than the actual square footage of the cage.
A good minimum size for a pair of sugar gliders is 24 inches deep by 24 inches wide by 36 inches tall.
Hermit Crabs
If you don't necessarily have the time to devote to an animal then perhaps a hermit crab would be more suitable for you.
These pets live in a fish tank without the water and like to climb and dig around, so you must provide enough gravel, shells and various other interesting things to keep them occupied.
You will need to feed your crab daily with food that you can get from your local pet shop, and make sure that it always has a good supply of clean water.
You will also need to sprinkle your crab with lukewarm water every day just to make sure he doesn't dry out.
If your crab suddenly stops moving or laying, don't worry. Many people think that their crab has died when in fact it has just gone dormant. This will last for about a fortnight, so you must carry on sprinkling him with water and he will be fine.
These pets love to play and respond very well to their owners if they are allowed to climb on them. The more you do it the more you and the hermit crab will bond.
This Little Pig
This pet is a little trickier and if you aren't allowed to have a cat or a dog, then it is doubtful that you will be allowed to keep a pot-bellied piglet in your apartment.
But, if you are then you will find them really easy to train and very affectionate animals.
The main difference, and a problem facing many, is that they need a lot of attention and if they get bored start on a destructive path which can leave your apartment in tatters.
Pigs live for around 12-18 years so you must be absolutely sure that this is the pet for you.
You might also like...