Interior Decorating for Cat Owners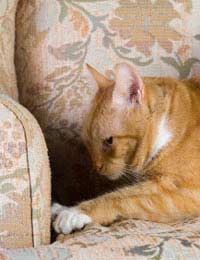 Cats are very suited to apartments, but they are very territorial and often treat a home as if they are in charge which can play havoc with your lovely furniture. However, you don't have to let that affect your style and ideas for the interior decoration of your new apartment.
Even if your cat is well trained and knows not to claw at the edge of your sofa, it could still inadvertently knock over a vase or accidentally send an ornament tumbling to its death.
These animals can't help this, but there are things that you can do to prevent any more mishaps, particularly when it comes to picking out and displaying furniture.
The first thing to do if you have a cat is not to put anything breakable on low shelves, and the same goes for dressing tables.
Most cat owners opt for tall standing dressers so that their kitty can't reach the top, but most will find this as a challenge and do anything to climb it so beware.
However, the biggest problem facing cat owners are indoor plants. Pets like to chew on leaves, dig around in the soil or, depending on how well trained the cat is, possible even urinate in them.
There are things you can do to help avoid these things though. Most pet shops sell a repellent that you can spray onto leaves and other furniture to deter your cat from scratching and chewing.
When it comes to the soil, the best way to combat that is to cover the top with pebbles or gravel, this will stop your kitty's fascination with digging.
You can also buy special kitty grass that is designed to give your cat all the nutrients that it would otherwise get from roaming outdoors. You should train your cat when you use this, so when it plays and eats the kitty grass, reward it and when it chews your expensive plants tap it on the nose, pick it up and put it infront of the kitty grass - this method is known as positive reinforcement.
When it comes to the larger items of furniture, you have to be very stern and watch the cat straight away of you are going to stop it from using your sofa as a scratching post or sitting on your dining table.
Most cats respond to a soft tap on the nose, but you should also ignore them for a little while afterwards.
However, there is a product to stop this. Basically they are sticky pads that you can place on you furniture to deter your cat from scratching. They are relatively cheap and it won't take long before your cat realises that it is not a good idea to scratch the side of your sofa because their paw gets a little stuck and it doesn't feel nice.
After time you and your cat will have an understanding and you will be able to relax when you leave the kitty alone that your furniture will live to fight another day.
You might also like...