Creating a Comfortable Living Space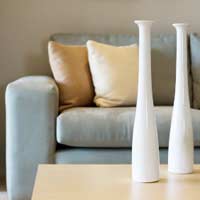 Moving into a new apartment can be daunting, and deciding on appropriate décor can take time to get right.
You will have no doubt been trawling through numerous decorating magazines, watching decorating programmes in your spare time and looking in furniture stores for inspiration of how to decorate your new home.
It is very important to get the style right, because you need to feel comfortable in your home and not be stressed out by an impulse-painted wall.
There are, however, some simple steps that you can take to make sure that you create a comfortable, relaxing living space in your new home.
The first thing to do is pick out your signature piece of furniture. This is the item that will take centre stage, the one that people will immediately be drawn to when they first walk into a room.
This item – whether it is a fireplace or coffee table, will set the tone of the room so needs to reflect your individual style. So, for example, if you are going for a contemporary feel then you would choose a nice black or white coffee table, and if you are going for a old cabin feel, then perhaps an elegant log fire surround or large rustic mantel.
The style that you have chosen will no doubt have associations with particular colours. For example, a cottage style would be blues and yellows and a farmhouse would be terracotta's and natural earthy tones.
When thinking about accessories and wall colours, you should try your best to incorporate these colours to accentuate the style you have chosen for the room.
Monopolising on Accessories
Ornaments that you bring into the space should also tie into the theme. Obviously, everyone has little trinkets that they want to display, but in order to refrain from cluttering a room, you should really stick to what fits in with the style and theme that you have picked out.
So, if you have decided on a traditional farmhouse style for your kitchen, then you should opt for wooden bread bins and a range of glass jars filled with dried pasta and jam.
For a living room with a contemporary feel, try to find a large print of a city by night, or perhaps in black and white and make that a feature on the wall – as well as adding to the overall style, it will bring a touch of personal style to the space.
A Piece of You
Obviously, you don't want the room to feel like it has just stepped out of a John Lewis catalogue, so you will need to inject a little bit of your personality into the room. This can be done easily, without creating too much clutter by finding a large coffee table book to display.
Try to pick one that reveals a little bit about you, such as a book of vintage fashion, art or perhaps an Andy Warhol book.
You can also reveal a bit of yourself through the plants that you choose. This will depend on how green-fingered you are, but choose plants that you are comfortable looking after and opt for pots that fit in with the style of the room.
You might also like...