We Turned a Cupboard Into a Bedroom: A Case Study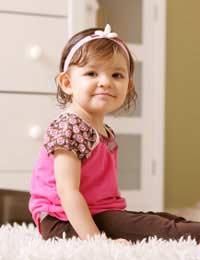 When Gill Travis's daughter needed her own bedroom, there was no option but to transform a walk-in cupboard in the apartment into a sleeping space. It wasn't an easy decision to make but the young family could not afford to move.Gill explained:
"We moved into our one bedroom apartment shortly before we were married. We knew we wanted to have children but didn't expect it to happen quickly and somehow thought we'd move house when the time came. But these things never quite work out as planned – and little Molly came along just a year or so after we were married.
We Had a Large Apartment with One Bedroom
Our apartment is actually pretty large. We have a good-sized master bedroom, a bathroom with a shower and bath, a kitchen that's big enough to take a dining table too, and then the living area. This is also a decent space. It's in an L-shape and at one end there used to be a large walk-in cupboard.
After we moved in and when Molly was tiny, we used this for storage. It was ideal for coats, boots and the buggy etc. We also had a rail in there with all our extra clothes in too. When Molly was born she shared our room but as she grew bigger we realised she would have to have her own space. We began to look around for a two-bedroom apartment but even in that short period of time, prices had rocketed. My husband's wages hadn't increased and I was now working part-time so I could spend time with Molly. On top of that we had childcare fees to pay.
We Didn't Want to Move to a New Area
The only option was to move out of the leafy quarter of the city we lived in to somewhere not nearly as nice. We wouldn't be within walking distance of the city centre and there would be no good schools nearby. We thought and thought about what we could do – and eventually came up with the idea of converting the cupboard instead of moving. There was easily enough space in there for a single bed, it would just need some clever solutions for storing Molly's toys and we would need to do something about the light.
How the Builder Converted the Cupboard
Luckily, the cupboard had one wall that ran between its own space and the living room. We were therefore able to call a builder in, and he installed an internal window, to give the room more light and to make it feel less claustrophobic. He also put in two air vents, one of which has a fan in it that now comes on automatically when you turn the light on. We also took the door off its hinges to make the space feel bigger.
We then went out and bought a cabin bed. This has a rail round it so it is perfectly safe for Molly. Underneath it there's shelving and a cupboard, for storing all her toys.
There isn't a huge amount of space for Molly to play in her room but when she gets up in the morning, she tends to pull her toys out into the sitting room, where she can really spread herself out. We know this isn't a long-term solution. Sooner or later we'll need to move either because she's too big for the room or because we have another baby.But for now it works well – and Molly loves having her own space."
You might also like...