Communal Gardens: Living in an Apartment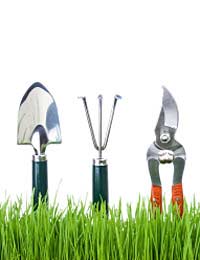 If you have moved to a new apartment that has outside space available for you to use, then you should definitely take advantage of it.
Obviously, there is a question of who will look after the space and if they have time to be constantly planting new flowers and keeping the garden under control. Apartment blocks that have a communal garden usually have a management team and the cost of upkeep is usually included in the service charge that you pay each month.
The Basics
One of the easiest, and low maintenance, ways to keep a communal garden looking its best for most of the year is to decorate it with a few potted foliage and flowers.
This allows you to place splashes of colour and add life to what could just be a plain slab of concrete.
Try settling on a number of large pots that you can plant a selection of different plants in. So, for example, you could include both seasonal flowers and evergreen plants so that your lovely garden doesn't all die off at the end of the spring and summer months.
Also, why not put a seating arrangement in the garden too –a bench or a patio table and chairs will allow the residents that have access to the garden to enjoy it much more.
Not So Potty
If the communal garden isn't simply a slab of concrete and there is a lawn and some planting areas, then you can get a little bit more inventive.
Depending on the space available will ultimately determine how many large and small plants you can opt for.
For smaller spaces, it is a good idea to build the garden on different levels. Try creating a rock garden. This can be done simply by layering compost with large stones and strategically placing small and colourful plants in the layers to give the garden a wild feel.
Don't opt for large trees or plants that will spread out, such as trailing ivy, because they will quickly take over your garden and leave you with a jungle.
If the space is much larger, then you have the option to create separate areas.
So, for example, if you want to incorporate somewhere to sit and relax, perhaps have a barbeque in the summer, then why not install decking? This gives a garden a tranquil feel and, as well as being lovely to sit on, it is also very low maintenance.
You could also try installing a water feature if you have the space. This can be anything from a small fountain to a full on pond. Water features encourage people to spend time outdoors and you will find that the space gets used much more often.
However, you have to be careful when it comes to water features because if small children have access to the communal area, they could easily fall in and drown, so just make sure there are sufficient safety precautions.
Maintaining the Space
Most communal gardens have some form of maintenance team that have been employed by the apartment management and are covered by the service charge. They will look after the space and make sure that the lawn is always cut and the plants always look their best.
However, if you don't have a team like this, then your best bet would be to opt for plants and flowers that require little or no looking after.
This also goes for the lawn. If no-one will have time to cut the grass, then opt for decking, crazy paving or gravel instead.
You might also like...