Getting to Know Your Neighbours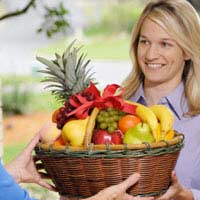 Securing your home with locks and alarms is one good way of keeping unwelcome guests out, but the answer to stopping burglars from taking a shine to your property lies with knowing your neighbours.
It might be annoying when every time you walk down your street curtains are twitching, or Doris at number 12 always knows what time you come home at night and who you were with, but this could go in your favour if something suspicious takes place in, or near your home.
For example, if you are away for a few days on business your neighbours will know that the person sneaking around outside your house shouldn't be there and possibly prevent a crime from taking place.
A recent survey found that a sense of community is the strongest factor in reduced crime rates, particularly when it comes to burglary or vehicle crime.
Making Friends
Just because you have moved in next door, doesn't automatically mean that your neighbours will be your close friends, or that they will even keep an eye on your house when your out.
When you first move in, making an effort with those next door should be at the top of your list.
Once you have got all of your things inside and settled in a bit, go round to your neighbours apartment and introduce yourself. They will no doubt be glad to see who has moved in.
This will also come in handy when you are getting to know the area. If they have lived there for some time, they will know when the bin men come, where the local shop is or what the local pub is like.
Staying Safe in Your Community
When it comes to crime in local areas, the perpetrators are usually locals too. This gives them an advantage because they will know when you are around, the layout of the properties and will know exactly how to get away quickly.
However, within a community, where neighbours are looking out for each other, the chances of the offender getting away unrecognised is very slim.
Solving disputes
Knowing your neighbours, of course, isn't only valuable for preventing crime or getting to know the local area - it also helps if there is a dispute.
Imagine for a minute that your neighbours enjoy late nights, often coming home from an evening out and turning music on at an unreasonable decibel. Well, if you are friendly with the neighbours then a simple knock on the door and request to lower the volume wouldn't lead to world war three.
However, if you don't know them, and they aren't aware just how early you get up every day then they will have no guilty feeling when they don't turn the music down and will probably not think twice about doing it again.
A sense of community can also come in handy when dealing with the council or any other institution that could have an affect on your area. Any company that wants to build anything, or change anything drastically in an area has to apply to the local council, and in turn the council has to inform the residents that will be affected.
This gives you and you neighbours a chance to come together and dispute the plans. Communities have been known to put a halt to certain plans or building works that they don't think will suit the area.
You might also like...