Putting your Stuff in Storage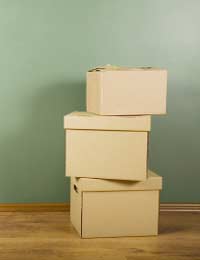 Moving into a new place, as well as being very exciting and somewhat stressful, also gives you the opportunity to sort out the stuff that you have accumulated over the years.
Many people find that when they are moving house they have too much stuff – particularly bulky items – that they want to keep but have no spare room for.
There is a very simple solution, that doesn't include selling your possessions on eBay. Renting a storage unit is a cost effective and secure way of keeping your items safe.
Renting a unit
There are storage units in locations across the UK, such as the Big Yellow Safe Storage and SafeStore, so it won't be difficult to find one reasonably close to your new home.
The first thing you will need to do is determine how much space you will need to store your items in. There are a variety of sizes available and they obviously go up in price the larger the unit is.
Also, depending on what you need to store, you should consider the level of security you need and temperature control. For example, if you have any valuable possessions that runt he risk of breaking in extreme temperatures or heat-sensitive items like videos or photograph albums, then a temperature controlled unit will need to be top of your list.
There are units that have added extras, such as shelves or filing cabinets, which usually have to be requested if needed.
Accessing your unit
It might seem a silly thing to ask, but it is always useful to know how easy it is to access your unit.
Each company applies different rules when it comes to accessing units, some require an appointment and others you have unlimited access to.
This will obviously have an impact on costs and you should question security if people are allowed access without an appointment.
Packing your possessions
The first thing to bear in mind when opting to put stuff in storage is that, despite those items not being in your home you are still responsible for them so you must make sure they are insured.
This will mean checking with your existing insurance company and informing them that some items are being kept off-site. If they aren't included in your policy then you may have to add a rider or a separate policy to make sure your items are secure.
Packing items for storage can be very time consuming, but if done properly can help preserve them against accidental damage and make it easier to find things in the future.
You will have to get hold of some high quality boxes that won't break when being carried or lifted. You can get these from high street stores such as Argos or Wilkinsons and they are fairly inexpensive and usually come with bubble wrap, package tape and a marker to label boxes with.
Make sure you wrap the valuable, and potentially breakable, items in plenty of bubble wrap and seal them in a box clearly labelled as being fragile. Any metal items will need to be cleaned and dried thoroughly to prevent them from going rusty.
When it comes to books, many people tend to just chuck them in a box without thinking, but if you pack them flat in a box the spines won't get damaged and the book will not fall to pieces the next time you get round to reading it.
However, the same does not apply to mirrors or picture frames. These should always be packed at the side of the box to prevent them from getting cracked under the weight of other items.
If you are storing clothing, you can get wardrobe boxes, which are designed in a way that allows you to hang garments up.
Anything that doesn't fit into a box should be stacked neatly – and of course in a safe way so that they don't topple over onto other items.
Remember not to overfill the boxes and never store anything flammable or hazardous.
You might also like...