Coping with Living Alone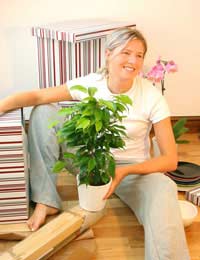 Living alone, like with most things, has its good and bad points, but there are things you can do to stop some of those negative feelings.
After spending years living with your parents, siblings, extended family or friends, it is a blessing when you finally get into your own place and have some alone time. But, many people find that this is short-lived and, soon enough, find themselves staying longer at the office or organising to go out for drinks most nights during the week.
If this sounds a bit like you, then you have probably tried watching new programmes on the TV, surfed the net until you fell asleep, attempted to make friends in chat rooms and possibly even cleaned so much that you can see your face in all your kitchen surfaces.
Loneliness is one of the worst feelings anyone can experience simply because there is little that can be done about it and can lead to despair – is this your life? Will it always be like this?
You suddenly start to see yourself much older, perhaps with more than one cat to keep you company on those cold lonely nights, but don't get carried away just yet, there are things that can be done to get rid of that lonely feeling.
Am I Really Lonely?
Being lonely does not mean that crying by yourself and consuming multiple chocolate bars, watching film after film and indulging in tubs of Ben and Jerry's ice-cream, it simply means that you are not surrounded by other people.
Spending time on your own can actually be a very enjoyable experience depending on what you spend your time doing.
Structuring Your Alone Time
Everybody has a list of things that they have always wanted to do. Perhaps for you it is write a novel, learn to play the guitar, or run a marathon. Whatever it is, it will be something that only matters to you and won't include anybody else.
Now that you have all of this time to yourself, you will be able to take a step closer to realising your dream.
You should set yourself some deadlines and spend your alone time trying to reach them.
Get Out There
If you are really fed up of the sound of your own voice, then why not give some of your time to others. Volunteer for a mentoring programme or local care home.
That way you will either have to take a young person out for a few days a month, or spend time with a older person who enjoys reading or talking or simply the pleasure of someone else's company.
There is also your local community centre which will no doubt play host to various activities. This is an ideal way to make some new friends and perhaps take up a new hobby.
There are loads of classes out there that will give you something extra to do with your time – such as dancing, knitting, arts and crafts, or even something that will give back to the community, such as helping with the events committee.
You will soon find that you have missed all your favourite programmes and haven't enjoyed a night in on your own for some time!
You might also like...
I struggled when I first moved in to a new flat in a strange town. The way I got to feel at home was the corner shop, where after a few weeks I saw the same faces and got to know people - and also I joined the gym and met people (now friends) at zumba!
Heidi
- 7-Oct-14 @ 12:39 PM