Questionnaire: How Green is Your Apartment?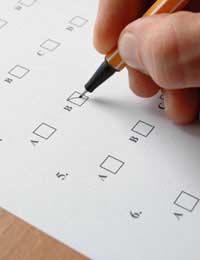 When it comes to green living, we all try to do our best, but just how environmentally friendly are we? It might be harder to be truly green if you live in an apartment. You are naturally restricted by the way the building itself was originally constructed, its existing energy supplies and leasehold limitations, when it comes to making changes.But there are still significant steps you can take - so why not take this quiz to see just how green you apartment is at moment?
1. Where Do Your Energy Supplies Come From?
A - Standard mains suppliers.
B - A green tariff from standard mains suppliers.
C - Alternative energy sources, such as ground heat source recovery, a wind turbine or solar panels.
2. How Well Insulated is Your Apartment?
A - Not very well. Windows and doors are draughty, there are gaps between floorboards and wall and roof insulation is poor.
B - Not bad. I have some double-glazing and I do what I can to restrict draughts but the building as a whole does not have high levels of insulation.
C - Good. The building is new and well-insulated in walls and the roof. We have double glazing and draught excluders are fitted.
3. Where Did Your Furniture Come From?
A - I bought it all new and it is made from materials that are from non-sustainable sources.
B - Some of it is new but I chose pieces made from materials from sustainable sources.
C - All my furniture is second-hand.
4. What Paints Did You Use When You Decorated Your Apartment?
A - Standard paints from mainstream sources.
B- A mixture of standard and eco paints.
C - Eco paints.
5. What Light Bulbs Do You Have in Your Lamps and Lights?
A - Standard light bulbs.
B - A mixture of standard and energy-efficient light bulbs.
C - Energy-efficient light bulbs.
6. Are Your Taps and Toilets Fitted With Water Saving Devices?
A - No.
B - Some of them are.
C - Yes.
7. Are the Central Heating Controls in Your House Set No Higher Than 19 deg C and the Hot Water Controls No Higher Than 60 deg C?
A - No, they are higher and we leave the systems on for 24 hours.
B - Yes, but we sometimes run our systems for 24 hours.
C - Yes, and we are careful not to run our systems all the time.
8 . Do Your White Goods Have a Good Energy Rating?
A - No.
B - Some of them do.
C - Yes, all of them do.
Mostly As - Your apartment is really not very green at all. See what you can do to improve it. Consider changing to a green energy tariff. Plug gaps and by draught excluders to reduce heat loss. When light bulbs need replacing buy energy-efficient brands. If you need to replace white goods, then check for models that are energy saving. Splash out on water-saving devices and if you decide to redecorate or buy new furniture, look for green paints and items that are second-hand or made from renewable materials.
Mostly Bs - You are not doing too badly. You have made some effort to ensure you apartment is green. When you do need to make changes, follow the advice above. Keep trying to make your apartment as green as possible and to do your bit for the environment.
Mostly Cs - Well done! You deserve a pat on the back. Your apartment is already very green. Keep up the good work and continue to do all you can to save energy and help save resources.
You might also like...