Make the Most of your Grocery Shopping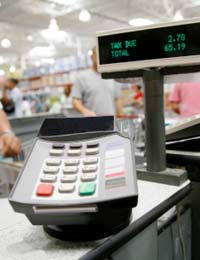 Once you have moved into your new apartment and you have finally sorted out all of your utility bills, phone bills and any other monthly outgoings, you will no doubt have forgotten to factor in the cost of groceries.
This extra cost is the most under-estimated when it comes to working out your budget because it is so easy to overspend. However, there are some simple things that you can do to make the most of your grocery shopping without breaking the bank.
Sort out your Budget
Once all of your statutory monthly bills are out of the way, you will have a much more realistic idea of how much you have left for groceries.
Now obviously the first month in your new apartment will be a little more expensive because you will need everything, but going forwards it will be much more reasonable.
The best way to stop yourself from overspending on your grocery shop is to place the cash to one side and take only that to the supermarket when you go – leave all other cash and cards at home.
Bagging a Deal
There is no shame at all in collecting coupons that entitle you to money off or buy one get one free offers as long as it is on something that you would have wanted in the first place.
The main problem with overspending often comes with these so called 'special offers' because you end up with items that you would never have even thought of buying unless they were on buy one get one free!
However, as bad as these offers can be, they can also be really helpful if they are on things that you use all the time. For example, toothpaste or deodorant, beans, teabags – all things that will keep in the cupboard for a long time and will leave extra money for future shopping trips.
Your Wish List
The ideal way to carry out your grocery shop is to prepare a list of what you need before hand, sticking to your list is, however, quite difficult.
The habit of shopping from a list is a good one to get into, especially as it will save you both time and money.
This process has been made easier since the Internet shopping phenomenon took off. By doing it online, you can search for the item you require and you will be presented with a choice, including any special offers etc.
This will also stop you from being persuaded by the marketing techniques adopted by supermarkets to entice you into buying things you don't need.
No Frills
There is a shopping snob in all of us, especially when it comes to 'own brands'. For some reason people believe that just because they are the supermarket's own brand, they are not as good for you. This isn't necessarily the case.
It is true that their packaging is cheap, but the quality of them is indifferent to the brand that you are willing to pay a fortune for.
You might also like...