Furnishing your Apartment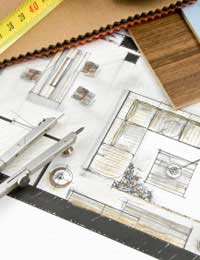 Moving house can be very expensive, from solicitor's fees, arranging your mortgage and then forking out for the moving van and any storage facilities you might need.
So when it comes to furnishing your new apartment, you will probably be left with very little. Not to worry, furnishing an apartment on a budget is easy if you follow the right steps.
Step 1
The first thing to do is to outline what items of furniture you must have, such as a bed, some form of seating, and perhaps a TV or coffee table.
Step 2
Once you have set out what pieces are the top priorities, you should make a list and stick to it! It is very easy to get carried away and impulse buy when you go out shopping for furniture.
Step 3
Once the big, essential items are out of the way, you can concentrate on making a list of the items that you would like to have but can't really afford just yet. Try working out a monthly allowance that you can spend on extra bits and pieces. This will enable you to buy something else each month.
Obviously, if you are looking to buy items that are a little more expensive, such as a stereo or dining suite, then you will have to save a couple of your monthly allowances.
Step 4
When you go looking for your new bed, try your best to buy a new mattress as opposed to a second hand one. By all means get a second hand frame, but it is much more hygienic to get a brand new mattress and they can be picked up for less that £100.
It is, however, worth splashing out that extra couple of quid for a decent bed – you don't want any restless nights or future back problems.
Step 5
There is no reason why you shouldn't go down the second hand route for other items though. Try asking your close friends and family if they have got any of the items you need that they don't want anymore, failing that take a day to go and look around some charity or second hand shops – there are plenty of bargains to be found.
Step 6
Your can get really nice furniture much cheaper if you are willing to put it together yourself. Stores such as Ikea and Argos have some bargains on various pieces of furniture and they come with very descriptive instructions that make assembling them quite simple to do.
The added advantage of this is that, should you move house again, you can simply take them apart again!
Step 7
Don't be put off buying a piece of second hand furniture because it has a mark on it or is slightly worn. These things can be addressed by a simple throw or paint job.
Step 8
To help keep any future costs at a minimum, should you decide to redecorate at some point, get all the expensive items in a neutral colour and accessorise with splashes of colour using cushions, throws and wall art. These can be easily replaced at a relatively low cost.
You might also like...