Getting the Best Apartment Location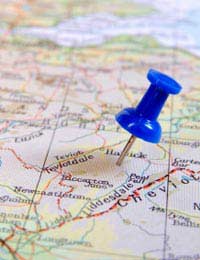 There are numerous things to take into consideration when you are looking for a new apartment or house to live in – particularly if you are moving out of an area that you are familiar with.
Settling down in a new location can be tough, but if you put the research in beforehand you should now a little of what to expect.
The basics
The first step to take would be to visit a website such as Right Move or http://www.zoopla.co.uk/ where you can get all the main facts about the location you are looking to move to. So, for example, you will be able to find out the percentage of crime that affects the area, what local amenities there are and what type of people tend to live there.
It will also tell you how far away the nearest police station, fire station, hospital, doctors surgery and shops are from your apartment. Not to mention what the local schools are like and how far away the college and university is.
Now, this will only give you the basic facts and you should never take a property before checking out the location yourself. It is also worth checking with a few mortgage brokers because some may have an opinion on the location you are looking at and whether the apartment is appropriately priced.
Take a trip
So, on your first visit to your prime location you should check things like access to public transport and what local shops or pubs are on route to your potential new home.
The next step would be to consider how much of a commute you would have to make to work, or to visit close family and friends. The reliability of the local transport will play an important role in this and ultimately impact your decision on the location.
Try doing a practice commute during a busy period to get a good idea of how long it will take you.
It is also an idea to call into a shop or local pub and ask whether the area is nice to live in, how noisy it can get or whether they think it is safe to walk around alone - again, mortgage brokers that have sold apartments in the area previously would be able to give you an insight into what is available.
Safety first
Your top priority, of course, should be safety so you must trust your instincts and ask yourself how safe you feel. Gauge whether the feel of the neighbourhood changes en-route to the property and try to find out if there is a neighbourhood watch set up in the area.
The apartment or house itself will also have an impact on the decision of whether the location is right for you, especially if you will be living alone.
Try to visit the property at different times of day – this will not only let you work out the levels of noise and what the neighbours are like when they are home from work, but will also give you an insight into what takes place when the nights draw in. For example, are there kids hanging around in crowds, is the area well lit and, most important of all, do you still feel safe walking around after dark?
Remember, it can be dark as early as 4pm in the winter months so it won't be uncommon for you to be walking home by moonlight.
It is only when you have completed all of this research, and of course if you still view the area as a prime location, that you should sign a contract for the property.
You might also like...